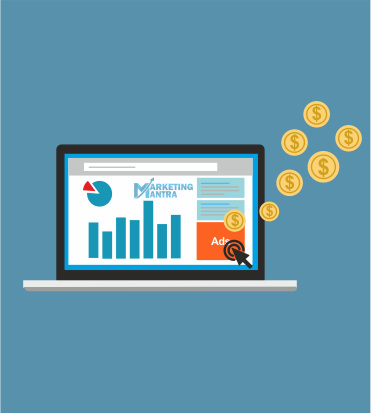 Pay Per Click Campaign Management Services, Calgary, CA
Facing trouble in getting found on the web? Don't worry; our experts at Marketing Mantra will help you with Pay Per Click Management service the quickest way that will fetch you ready to buy customers searching for your product and services.
Millions of customers use Google to find the product or service they wish to buy, with PPC, your product is placed right in front of them; the best part is you pay only when someone clicks on your advertisement!
Marketing Mantra – an expert PPC advertising agency based in Calgary has a team of highly efficient and ethical professionals who will craft your PPC campaign for the best Return on Investment on your marketing budget.
Pay per click is an advertising strategy wherein the promotion and marketing of a website or an application is done through paid advertisement on search engines or social media channels. The paid ads can be in the form of text, banner or video ads.
Paid ads can help you reach the right customers by displaying your advertisement at a right time inclining them towards making the purchase from your offer. You decide how much you want to spend based on which our experts will frame a right strategy for your business within your prescribed budget on a monthly basis so that you never go off budget. The results of PPC can be measured in real time. A sudden spike in the number of visitors on the website/App which is directly proportional to the investment made in the PPC campaign.
The advertising position is determined by an auction bidding method but payment will be deducted only when someone clicks on the advertisement.
Quick PPC FAQ's
Interested In Our Service? Let's Discuss!
Testimonials
Thanks a lot, team Marketing Mantra. Your efforts are showing results and my business has started to grow. Online visibility of my business grew a lot. I am surely continuing our business relationship for a long term.
You guys are the best at PPC. Had tried it with someone else before but your created campaign was very effective. Thanks for creating not only awesome PPC campaign but also for recommending where and when to do PPC, which totally changes the scenario.
If anyone wants to have a one-stop solution for digital marketing, this is the place you were looking for. They are experts in all – SEO, PPC and SMM. Thanks for improving the ranking of my website.
Professional approach to complex challenges should be your tagline. Your way of explaining things was the most attractive thing for me. Transparency is the other thing that impressed me about you. Best of luck in your future endeavours.
Great work guys. Working with you was a very satisfying experience. What I liked the most was your straight forward nature. You didn't give me any fake promises and achieved more than what I expected. Keep going. Hope to work with you again, soon.